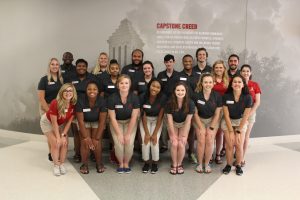 Thank you for your interest in serving as a Parent Ambassador or an Avanti!
To gain more information about becoming an Orientation Leader, let us know by completing this Orientation Leader interest form!
Orientation Leader Interest Sessions
All students interested in applying for the 2020-2021 orientation team must attend an interest session. Interest session information will be posted when available and will be sent to those who complete the interest form above.
About Orientation Leaders
The Orientation Leader Team is made up of approximately 20 Parent Ambassadors, who facilitate New Parent & Family Orientation and other UA family engagement events, and approximately 50 Avantis, who facilitate New Student Bama Bound Orientation & other recruitment events. Students selected to be a part of the Orientation Leader team are chosen because of their experiences and potential to grow as student leaders. We look for students who want to serve the University and can represent UA's community.